Quote:
Originally Posted by
USMC
ABK

Syynik, SORRY I WAS SO LATE.... First off, keep in mind this is F/A only. I know nothing technical about this company. This is very risky, but it has the possibility to payoff, but it's dangerous. Just looking at their Balance Sheet, a bankruptcy could happened, but again they may turn it around. Also, this company has received TARP funds. Their Balance Sheet is very shaky, but again the risk could payoff. Reviewing their filings, I noted that they have been in the process of getting new officers. I think a bankruptcy could be in the cards; however, they pulled a profit last quarter, so they may be out of the woods if they can keep it up!


THE F/A ON THIS WAS IS

CAUTION

,

CAUTION

,

CAUTION

; HOWEVER, IT CAN BE TRADED.
On December 8, 2009, Ambac Financial Group, Inc. ("Ambac")
received a notice from the New York Stock Exchange (the "NYSE") that Ambac has fallen below the NYSE's continued listing standard relating to the price of its common stock.
The NYSE requires that the average closing price of a listed company's common stock be above $1.00 per share over a consecutive 30 trading day period. As of December 8, 2009, the date of the NYSE notice, the 30 trading-day average closing price of Ambac's common stock was $0.94 per share.
***Possible R/S candidate***
Included in the third quarter statutory results were the effects of commutations of four collateralized debt obligation of asset-backed securities ("CDO of ABS") exposures completed with multiple counterparties. The CDO of ABS transactions, which have an aggregate of approximately $5,031 million notional outstanding as of September 30, 2009, were settled for cash payments of approximately $520 million. As a result of the commutation settlements, Ambac recorded positive adjustments to its aggregate impairment reserves as of September 30, 2009. The statutory financial results also included the impact from other significant non-recurring third quarter activity such as reinsurance recaptures amounting to $311 million, which had a positive effect on surplus, and the correction of an error in the prior quarter's estimation of credit derivative impairments amounting to approximately $280 million, which had a negative effect on surplus.
Ambac also expects that it will receive approximately $440 million in tax refunds as a result of the recently passed "Worker, Homeownership and Business Assistance Act of 2009" legislation which will allow Ambac to carryback 2008 and 2009 losses as far back as 2004. The tax refund will have a positive effect on AAC's surplus in the fourth quarter 2009.

and
(Artificial profit in 4th quarter possible).
THE LAST FINANCIALS DO NOT LOOK GOOD; HOWEVER, THEY COULD TURN IT AROUND. THEY PULLED A PROFIT LAST QUARTER, WHICH IS GOOD!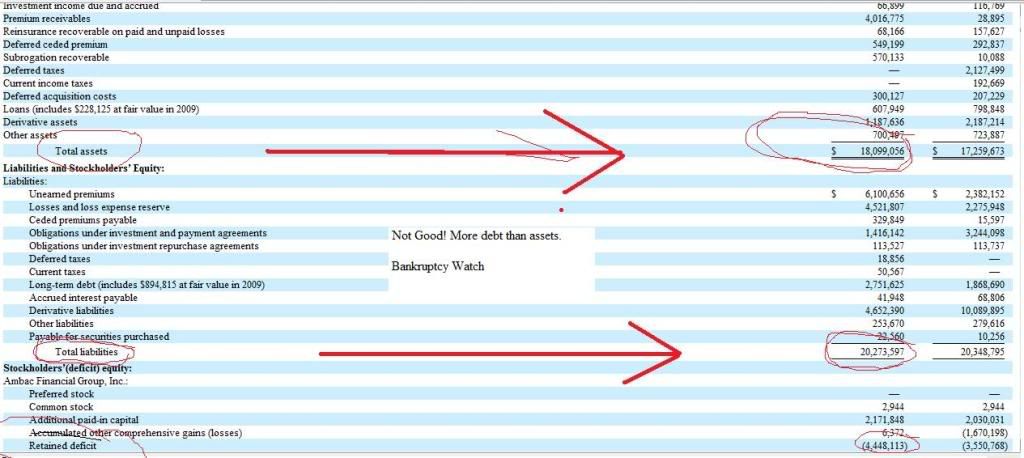 I probably will get in this one for the 4th quarter earnings play.