Li-ion Motors Corp. $LIMO




"Zero to sixty in 3.4 seconds isn't the only thing that sparks curiosity with this Super Car.

Performance and handling enables the consumer to travel up to 200 miles on a single charge

and arrive at the destination refreshed and surrounded by style."




LIMO Business Discription

Li-ion Motors Corp. (OTCBB: $LIMO) was incorporated in Nevada April 2000.

We are a technology company focusing our resources and efforts on the development,

manufacturing and marketing of high speed lithium-powered vehicles.

Since 2003, the company has worked diligently to develop their patented state-of-the-art

Battery Management System (BMS) and has done so independently without any financial

assistance from government funding, corporate sponsorships, or joint ventures.

Is $LIMO the Next Tesla in the making ? as Tesla Motors TSLA trades at $34.00 per share

Inizio RTX - World's Fastest Electric Car Vs. Tesla Roadster


Inizio RTX - World's Fastest Electric Car Vs. Tesla Roadster - YouTube

Li-ion Motors Corp continues to improve their vehicles' performance with enhancements to

their proprietary BMS and increase efficiency by an additional 10 to 20%.

As with their consistent progression in past efforts, the company's goal is to always remain

ahead of the competition, now and in the future, with the development of an all electric

affordable transportation for the next generation.

With recent environmental catastrophes including the BP oil spill, Li-ion Motors' immediately

intends to license their technology to any automotive manufacturers worldwide.

The United States will lead the world in accelerating ecology benefits by sharing this

American technology. The company's intentions of accelerating the licensing to manufactures

globally will result in improved carbon footprints worldwide.

All-Electric Supercar Inizio From Li-ion Motors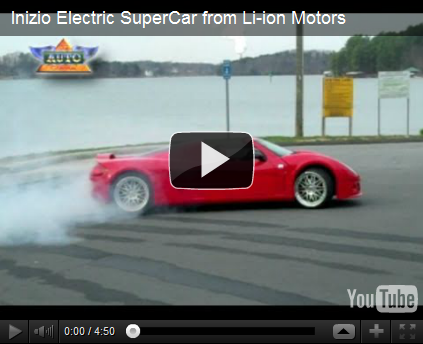 All-Electric Supercar Inizio From Li-ion Motors - YouTube

Automotive manufacturing giants, like Nissan and GM, have spent tens of millions of dollars

on EV innovations and will still have to fine tune their technology before making it available

to the public. For other manufacturers, licensing Li-ion's technology, will save them the

millions of dollars, eliminate years of research and development, and will result in a

state-of-the-art, fully functional, tested and proven prototype within four months of licensing.

Progressive Automotive X-Prize

We are pleased to announce that Li-ion Motors' WAVE II won the Progressive Automotive

X-Prize for the Alternative Side By Side class.

The winner was announced and awarded $2.5M at a formal ceremony in

Washington D.C. on September 16, 2010.

Li-ion Motors WAVE II


Li-ion Motors WAVE II: Now Taking Reservations - YouTube


Partners


Superlattice Power

http://www.superlatticepower.com/



Li-ion Motors is one of the first companies to make a fully-electric vehicle that produces
zero emissions and is 100% lithium-powered, available to the public.
Through our unique after-market conversion system, you simply select the automobile
you desire from a list of popular models, and within 120 days, your selection is fully
converted to a road-ready electric car that delivers both highway speeds and visual appeal.
In addition to converting popular models, we also manufacture our own high powered
electric models from the ground up.
The first one is a luxury supercar called the INIZIO. The second is a two door,
two passenger vehicle called the WAVE II.
Li-ion Motors Corp has these vehicles in production now and they are being sold
to consumers per order.

Li-Ion Inizio Electric Supercar at SEMA Auto Show in Las Vegas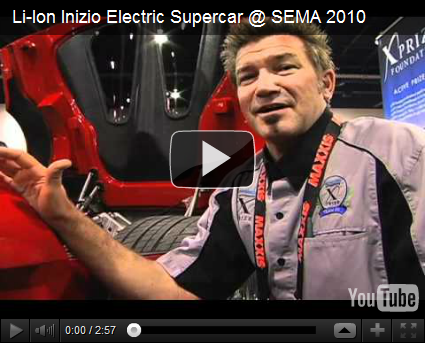 Li-Ion Inizio Electric Supercar @ SEMA 2010 - YouTube


" INZIO " The Company Flagship "

Inizio Back Inizio Card Inizio Doors Inizio Front Angle Inizio Interior Close Inizio Interior
Inizi oMotor Controller Inizio Wave and Trophy Inizio All Up Inizio and Wave





Inizio Electric SuperCar from Li-ion Motors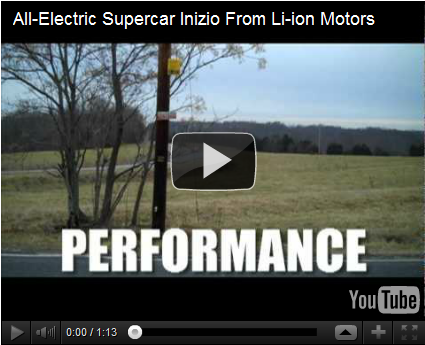 Inizio Electric SuperCar from Li-ion Motors - YouTube

One Souped-Up EV

Vehicles

Inizio



Wave II




LiV Flash



LiV Harmony




LiV Wise





Electric Motorcycle : LiV RYDER




Electric Moped : LIV Cruz




Electric Sports Vehicle : LiV™ Bulldog






SAE International featured Li-ion Motors in their Vehicle Electrification issue!

Read the Article... http://www.li-ionmotors.com/press/SAE_LowQual.pdf




360 Magazine Feature Li-ion's Inizio!

Check out the spread on Li-ion's Inizio in the new issue of 360 Magazine!

Read Article...

http://www.li-ionmotors.com/press/360_Li-ion_Spread.pdf




Auto Channel features Inizio Supercar!

The Auto Channel airs an in depth video of the INIZIO supercar in a recent broadcast

estimated to have reached over 700,000 viewers!

Read Article...

http://www.li-ionmotors.com/press/AutoC ... ignWeb.pdf

No Gas Needed For This Ride!




Charlotte, North Carolina's NBC affiliate, WCNC featured Li-ion Motors on the locally

produced "Charlotte Today" television program which aired June 8th, 2011.

The 4 minute broadcast segment featured Inizio and Li-ion Motors Corp and discussed the

innovative design using all electric technology and zero gasoline as an answer to ever

increasing gas prices. Read More...

http://www.li-ionmotors.com/blog/2011/0 ... observers/



LI-ION MOTORS CORP WINS $2.5M IN THE PROGRESSIVE INSURANCE

AUTOMOTIVE X PRIZE COMPETITION

Li-ion Motors is proud to represent the United States as the Progressive Automotive

X-Prize winner of the Alternative Side-by-Side class.

Li-ion Motors Corp outperformed global competition with their innovative and aerodynamic,

WAVE II, and consistently excelled in rigorous efficiency, safety, and performance races.


TRANSPORTATION FOR THE NEXT GENERATION

Li-ion Motors is a technology company focusing our resources on the development,
manufacturing, and marketing of high speed, extended range, lithium ion powered vehicles.
Utilizing large format Lithium-ion cells with our proprietary Battery Management System
(BMS) and proprietary LiV™ electric powertrain systems has made Li-Ion Motors Corp.
a worldwide leader in high speed electric vehicles.
In addition to manufacturing our own high speed cars from ground up, the INIZIO and the WAVE II,
we also convert popular auto models to all- electric vehicles.
We believe that the electric vehicle can be the quantum shift in transportation because of its
positive impact on society and the economy by improving the environment, reducing foreign
oil dependency and decreasing the cost of transportation.







Li-ion Motors Corp. (OTCBB: LIMO) (FRANKFURT: LL9L) Celebrates 4 Year Anniversary of Longest Running Lithium All Electric Vehicle Driven by a Consumer Anywhere in the World

Marketwire


MOORESVILLE, NC--(Marketwire -01/24/12)- Li-ion Motors Corp
(OTC.BB: $LIMO.OB - News),

winner of the 2010 X-Prize using 21st Century Design & Engineering of emission-free,
all electric, high speed, long range automotive propulsion systems using the latest
lithium-ion battery technology, proudly reflects that in 2007 the "Once in a Lifetime"
package with Li-ion Motors, Sam's Club and NASA was the first ever lithium all electric
vehicle sold to a consumer. The car has been in use with normal driving, and now has
over 27,500 miles by its very satisfied owner.

Branyon's reason for bidding on the package was because of his desire to see a space
shuttle launch. "The car has proven to be a whole lot of fun. I didn't bid on the car because
I thought it would be cheap transportation, but it has turned out to be that." Branyon
identifies himself,
"I'm a proud owner and a satisfied customer," calling the car his "Energizer Bunny."

He says the Li-ion Motors Car is his primary vehicle, using it daily to drive to work and
everything else. Branyon has also stated, "I think the technology is amazingly good if
you live in an urban area and do a lot of city driving." He keeps it plugged in when not driving it,
and says he hasn't seen any significant change in his electric bill,
"I know it's not free but it feels like it is."

Further updates:

As previously reported, Li-ion Motors has been advised by the group in Israel that it has
meetings set up with the Israeli MOT (Ministry of Transportation) to review the vehicle
specification for importing the 1,000 vehicle conversions into Israel.

Li-ion's representatives in China have met with three perspective companies in Beijing
regarding license of their technology for production in China. Further meetings are
anticipated after the Chinese New Year. Reflecting on other achievements, Li-ion Motors
had the highest efficiency of any vehicle at the 2010 X-Prize competition and continues
to develop its technology for even higher efficiency.


Jan 24, 2012
Li-ion Motors Corp. (OTCBB: $LIMO) (FRANKFURT: LL9L) Celebrates 4 Year Anniversary of Longest
Running Lithium All Electric Vehicle Driven by a Consumer Anywhere in the World

Dec 19, 2011
Li-ion Motors Corp. Updates Shareholders on Purchase Order

Dec 7, 2011
Electric Vehicle Sales to Grow 106% Through 2015

Dec 6, 2011
Li-ion Motors Corp. Receives Initial Deposit Towards US $68 Million LOI to Ship 1,000 All Lithium
Electric Vehicles to Israel








CONTACT US

Li-ion Motors Corp. LIMO
4894 Lone Mountain
Suite 168
Las Vegas, NV 89130
United States - Map
Phone: 702-425-7376
Fax: 702-926-9508
Website: http://www.li-ionmotors.com